Old Skool & New Age Chrome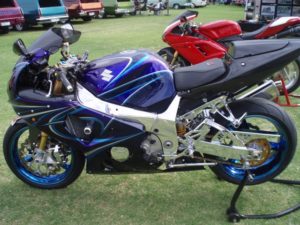 Bice Oval, Christies Beach was packed for the Old Skool and New Age motor show event last Saturday (March' 10). Cars, bikes, boats and their owners flocked to the show and by all reports had a great day.
Some great resto jobs and plenty of chrome plating were on display. The rain held off well – so all that polishing wasn't in vain. Many well presented entries were awarded across all categories. We were privileged to host Jeff Smith's Suzuki GSXR (pictured) on our site, along with his Ducati. Pro Street Racing placed a Custom Harley with us too. It was great to see them both go home with prizes. This was our third time sponsoring this annual event which has grown every year. Our chrome, plastic chrome and candy coloured chrome displays got alot of attention with visitors very pleased to learn that chrome no longer has to be limited to metal parts. Looking forward to hearing back from some of the passionate car and motorcycle restorers and enthusiasts we met on the day! Thanks to all those who visited.
ONLINE QUOTE
Submit information about your new parts finishing or custom refurbishment work using one of our online forms below and we'll get in contact with you regarding the processes and costs involved.