Electro-Plating Plastic Car Parts
A Class Metal Finishers have developed special processes to enable your old plastic car or bike parts to be finished in real CHROME.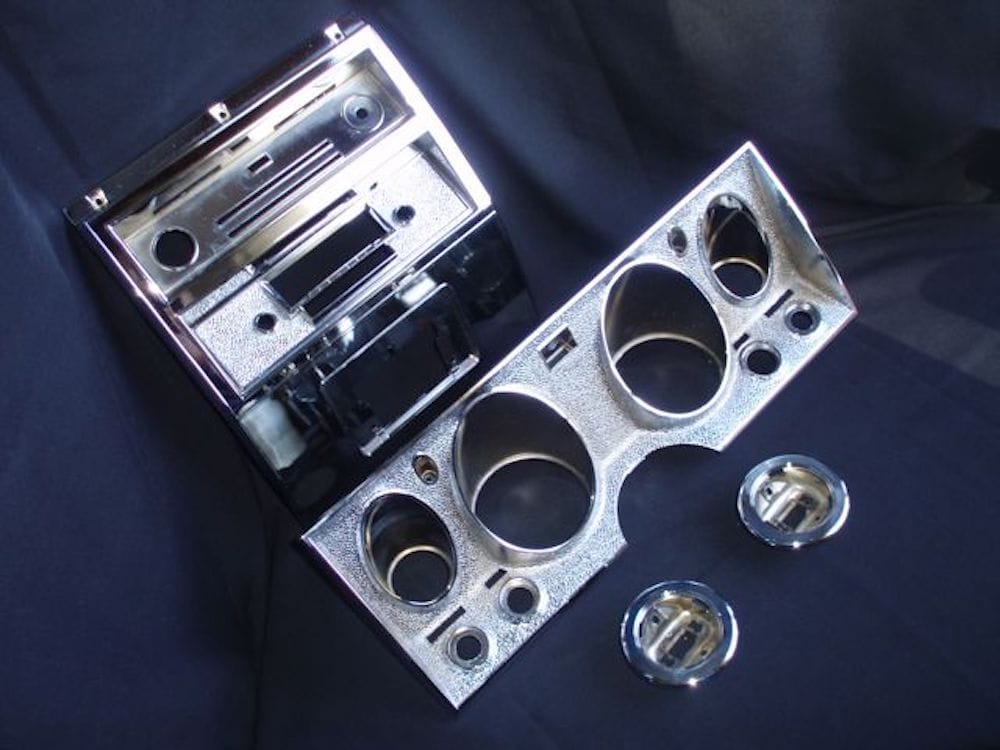 Chrome Plating Plastic
We now have FOUR different methods to electroplate (chrome plate) a large variety of plastics, fibreglass and other non-conductive substrates with a high quality finish and without altering part dimensions (other than the addition of a normal plating thickness).
So – whatever the shape or type of plastic, we have a method that will do the job of chrome plating plastic or non-metal parts to a high quality standard.
How can Plastics and Non-Metals be Chrome Plated?
Glad you asked! Of course traditional electroplating could only be performed on metal substrates because plating requires the transfer of electric current. Later, process technology was developed that enabled chrome plating of ABS plastics (commonly used by automotive manufacturers). Now, A Class can plate almost any substrate. Of course we can't give too many secrets away but let me tell you – our methods are very successful and provide many advantages over other methods. Customers are thrilled with the finish quality and the fact their parts fit back into place afterwards. The following table describes some of the differences between our methods and other methods for achieving a chrome or chrome look plastic part.
Methods for achieving a chrome, or "chrome-look" finish:
Process
Description
A Class Plastic Chroming Process/es for non metallic (and non ABS*) parts
Metallising process first. Then 'Triple Chrome' plated.
Mirror chrome finish.
Strong copper, nickel, chrome structure
A Class Process for ABS* plastics
Special part preparation process, then 'Triple Chrome' plated.
Mirror chrome finish.
Strong copper, nickel, chrome structure.
Vacuum Coating (Vacuum Metallising)
A "chrome-like" coating (not real chrome) via vacuum technology.
Bright, thin, silvery finish.
Thin wall coating – can be prone to damage. May be adequate for some purposes. (Note – we don't do vacuum metallising)
Spray chrome
Painted (based on a hybrid of paint & chemical finishing).
Can be a near match to chrome but prone to variation due to colour mix and methods.
Durability is similar to 2-pack paint.
The best method for re-furbishing parts like dashboards, instrument trim, and other trim is the first method above (A Class Plastic Chrome). If parts are made from ABS plastic (*a type of plastic that is formulated to be electroplated) and in very good condition, there may be another. Other methods will only be employed if the job requirements call for it. Note that the polypropylene engine bay reservoir bottles (pictured – yellow vehicle) are plastic chrome plated by A Class Metal Finishers. There are many types of parts that can be chrome plated. Chromed plastic parts are hard to tell apart from metal chrome parts (apart from weight).
Plastic Chrome in Colours?
Yes – you can get your plastic parts treated in chrome-like (metallic) colours. Our colour finishing incorporates electroplating, so it is more durable and robust than spray finishing alone. So if you'd prefer your plastic dashboard to be finished in a colour but still have the depth and lustre of a chrome finish – you can!
Please note that the above information is provided as a general guide, for the general information of the reader only, and should not be relied or acted upon as accurate technical advice.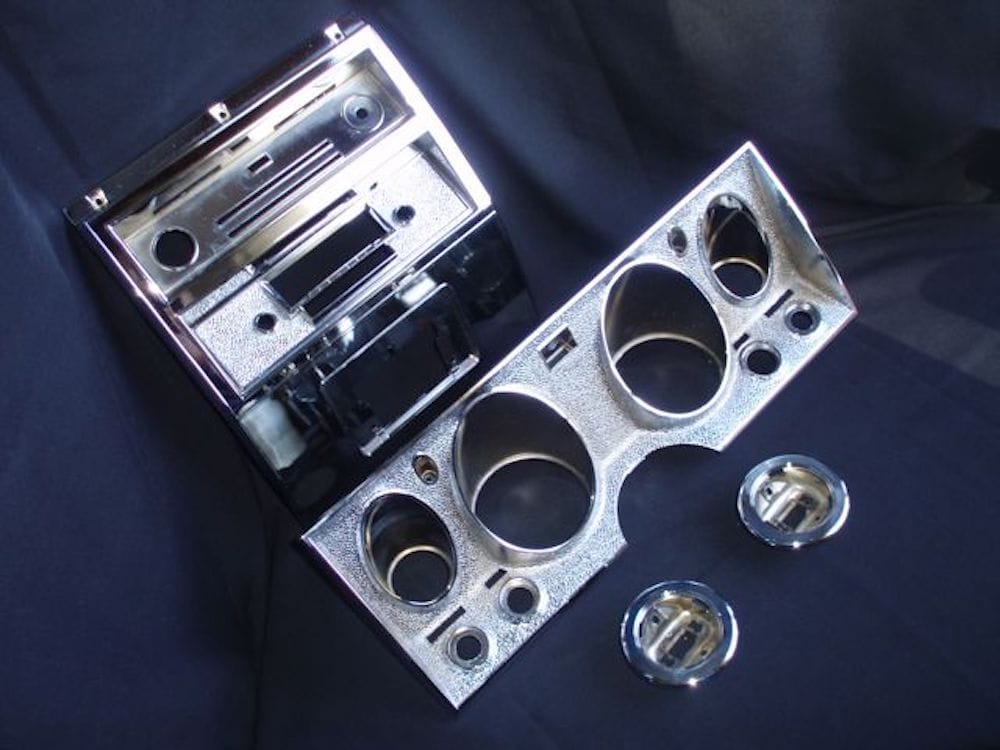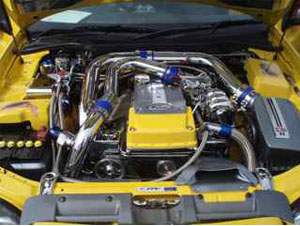 ONLINE QUOTE
Submit information about your new parts finishing or custom refurbishment work using one of our online forms below and we'll get in contact with you regarding the processes and costs involved.