Nickel Plating – Electrolytic
Do you want Nickel plating as a FINAL finish? (for parts in volume, or for custom jobs). Get a quote here: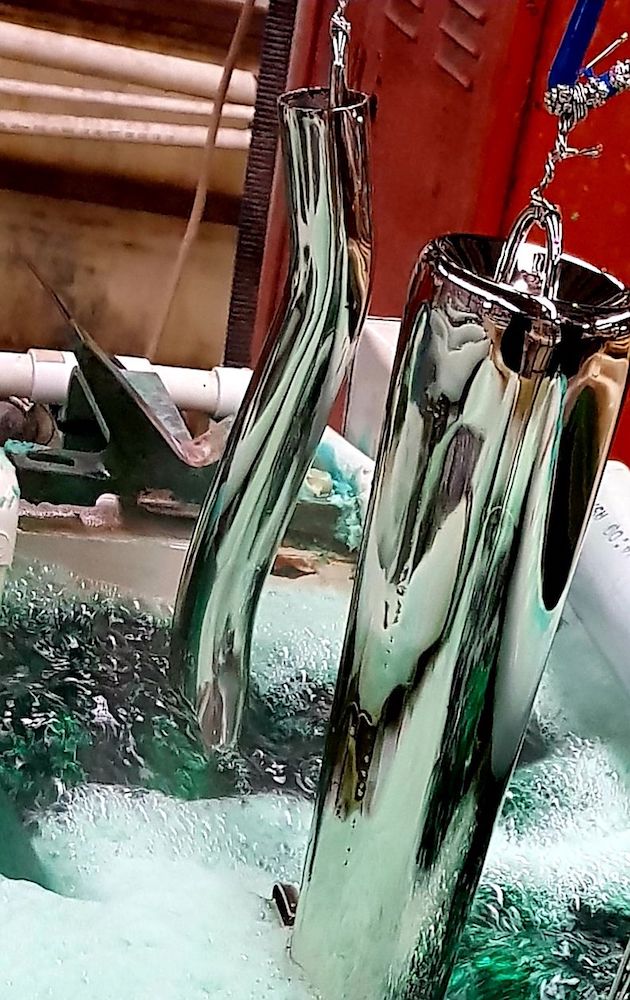 Description – 'Electrolytic' nickel plating
Nickel plating can be achieved via 2 methods – "electrolytic" and "electro-less". Here we discuss the electrolytic variety. Nickel plating plays a major role in surface finishing for decorative and protective purposes. Nickel provides the 'substance' of the coating as it predominantly provides the hardness and corrosion resistance to the surface. Though sometimes used as a 'final finish' it is more common for nickel to be applied as an "undercoat" beneath final finishes such as silver, gold or chrome. Nickel is a real performer in the 'triple chrome plating' process. It provides considerable strength and corrosion resistance. The nickel solution type used in the finishing process determines the level of brightness of the finished product. Some nickel solutions chemistry results in a matt or 'satin' finish.
Benefits of Electrolytic Nickel plating
Nickel plating provides the finished product with hardness and protection from the elements and determines the level of brightness of the product – in fact it can be extremely difficult to achieve a bright finish without it.
Colour & Aesthetics of Nickel
Nickel has a silvery appearance with a "yellow/brown" hue (as opposed to chrome which tends to have a blue-ish hue). Nickel, as a final finish, can sometimes provide a closer match to some stainless steel grades – depending on the level of nickel contained in the stainless material. Withought the nickel layer, brightness of the finished product is harder to achieve. This is a consideration for the jewellery industry in which nickel sensitivity on ears and wrists has become prominent.
Applications for Nickel Plating
Nickel is used as an "undercoat" for most decorative electroplating applications (e.g. chrome, gold, silver). It can also be used as a final finish if required. In the early 20th century vehicle components (car or motorcycle) were traditionally nickel plated. A Class, can restore old car and bike parts to their former glory using, essentially, the same process. Restorers, hot rodeos and enthusiasts often refer to the standard "copper, nickel, chrome" plating process as "triple chrome plating".
Substrates suited to Electroplating with Nickel
Nickel plating can be applied over most metal substrates, though most often it is applied over pre-coppered surfaces, including metals and plastics. In the car and motorbike restoration context, parts are often steel (which benefit greatly from the triple chrome plating process due to hard wearing and corrosion prevention benefits.
Design Cautions – before Nickel Plating
Because nickel plating is an electrolytic process, it is necessary to use jigging, racking or wiring to provide good electrical current conductivity to successfully plate the item concerned. Some shapes and designs lend themselves more readily to successful plating than others – if not the part design may need to be adapted (or special racking or jigging designed to compensate). Please consult A Class prior to finalising design if you intend using the nickel plating process to finish your manufactured products.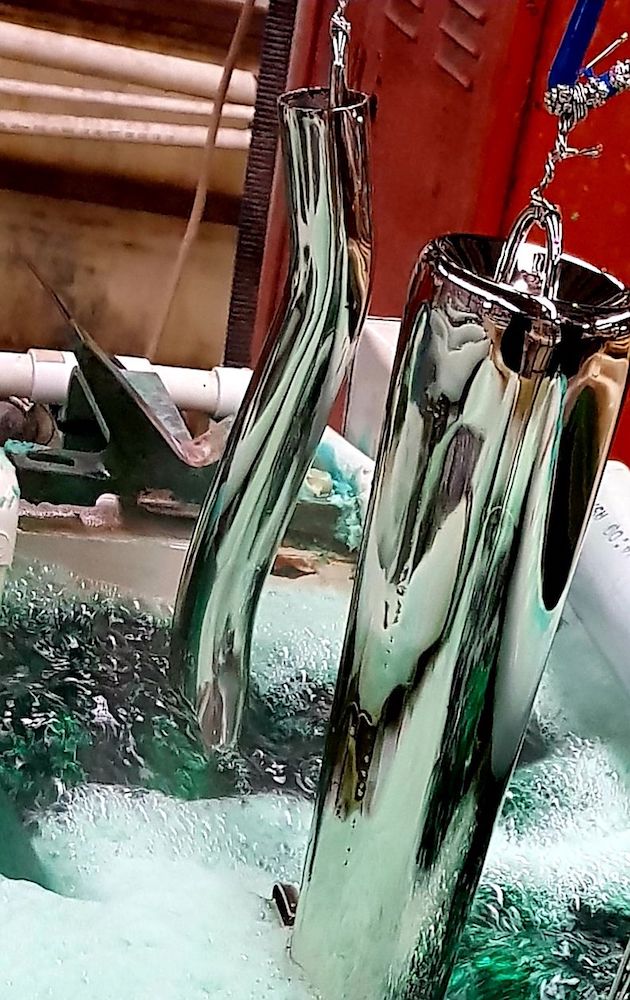 ONLINE QUOTE
Submit information about your new parts finishing or custom refurbishment work using one of our online forms below and we'll get in contact with you regarding the processes and costs involved.